You're met them, you work with them and now Cranston Holden tells you how to deal with them. An important read for all manager this time of year.
How Leaders Manage
"Hey boss.  I'd like to talk to you. They guys outside and I have some concerns. We would like a 50% pay raise.  If we don't get it TODAY we are leaving and taking all our clients with us and you'll be left with nothing"
A terrorist is someone who attempts to get their own way by striking fear in your heart by threating to cause harm.  A terrorist is one who gives ultimatums.
For more get:
The Jerk Whisperer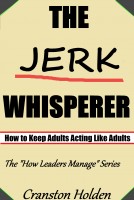 https://www.smashwords.com/books/view/470598
The Jerk Whisperer – How to Keep Adults Acting Like Adults